Rendering 3D, a long-lasting process, requires very strong computing performance to be effective and not take hours, which costs artists and 3D studios a lot of investment. So how can we do to speed up the rendering process and focus on just creation works without spending a lot of money on expensive hardware?
There are some tips for improving rendering in Blender, Maya, and software in general.
SPEED UP THE RENDERING PROCESS IN BLENDER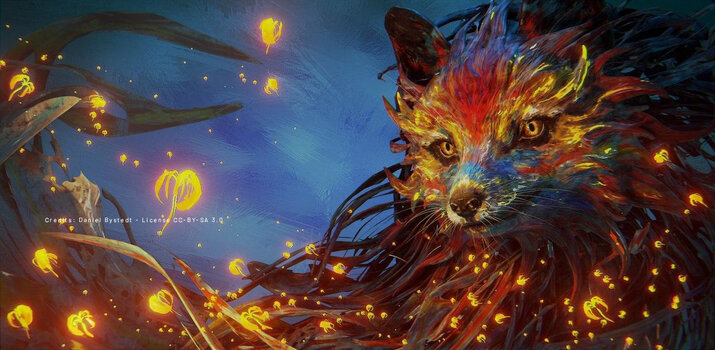 Blender is a free and open-source 3D computer graphics software toolset used for creating animated films, visual effects, art, 3D printed models, motion graphics, interactive 3D applications, virtual reality, and computer games.
There are several ways to speed up the rendering process for Blender projects.
1. Software update
A new Blender update comes out almost every 3 months, which significantly improves its operation. The new version can significantly speed up your rendering time.
2. Combaine CPU & GPU
As of Blender 2.8, the GPU and CPU can be used simultaneously. By doing this, you can gain a significant advantage in terms of rendering time reduction.
You can do it by entering Blender User Preferences and selecting two boxes in Cycles Computer Device Section for both GPU and CPU.
3. Resize tile
But what exactly are tiles? These are the little boxes that appear on the screen when rendering in Blender.
Changing the dimensions of the tiles is very important because it can significantly speed up the rendering. However, you have to remember that when you are using a GPU, the larger the tile size, the faster the render time, and on the CPU, the smaller the tile size, the shorter the render time is.
SPEED UP THE RENDERING PROCESS IN MAYA
Autodesk Maya is 3D computer animation software with powerful modeling, rendering, simulation, texturing, and animation tools for artists, modelers, and animators. In the 3D animation industry, Maya is the basic program used in the creation of special effects in films, TV series, advertisements, VFX, video games.
Due to the demand for 3D animations and high resolutions, Maya is a very demanding program, which results in reduced rendering speeds.
There are a few tips to improve it.
1. Instance optimization
When using Maya, if your scene contains several identical surfaces (for example, many spheres), use the Optimize Instances option. You will find it in the render settings. This can speed up the process considerably.
2. Turn off motion blur
When you don't need motion blur – turn it off. This effect is heavy on the rendering process and you will notice a significant difference when you don't use this effect.
To do this, go to render settings, then to the Maya Software tab and uncheck the Motion Blur box.
3. Test resolution
Maya software has the Test Resolution option. It allows you to check the rendering speed at a lower resolution, which allows you to estimate the time needed to render and possibly reduce the resolution to speed up the rendering process.
To do this you have to from Render View (Windows > Rendering Editors > Render View), click Options > Test Resolution, then select a resolution.
GENERAL TIPS TO SPEED UP THE RENDERING PROCESS
The following tips allow you to speed up rendering regardless of the program you are using.
1. Check running processes on the computer
Make sure no other programs are running in the background. The computer must not be loaded with anything except the rendered rendering so that the time is not extended. Any other process more or less delays rendering.
For Windows: To control background processes, use the [Ctrl] + [Alt] + [Delete] key combination to bring up the Task Manager and go to the Processes tab and delete those you don't need. Do the same for programs.
For Mac: To disable unwanted processes and applications on your Mac, you need to go to Activity Monitor. It is located in Applications in the Tools category. Once you fire it up, you will be able to easily remove any unnecessary processes and applications that slow down your computer.
2. Be selective with your effects
We must be aware that not everything is possible with the hardware we have at the moment and everything is at the expense of rendering time. Therefore, choose your effects consciously and try to find the right balance between the rendering time and visual effects.
3. Better Software => Speed up the rendering process
Not all 3D animation or video production software is equally effective. Perhaps the display efficiency problem lies in the program you are using. So let's test different programs and see if rendering speed is the same on other software. If so, the problem could be with your hardware.
RENDER WITH 3S CLOUD RENDER FARM
3S Cloud Render Farm is a cloud rendering service supporting Houdini and Redshift, Mantra, V-Ray, Arnold together with other 3D creation suites with their renderers/render engines such as Blender, Cinema 4D, Maya, 3ds Max, and to be continuously updated.
Infrastructure investment to match the needs of rendering is not only a huge expense for 3D artists/studios but also the difficulty of meeting all rendering requirements due to the difference in scale between projects. For this motivation, 3S pursues building an ecosystem of services with a view to eliminating dependence on physical machines so that 3D artists/studios have the opportunity to focus on creating artistic ideas.
We offer an unlimited number of CPU/GPU servers with high configuration to speed up your rendering and to make sure you never are in queues. With just a few clicks, it's very flexible for you to render images with 18k or more in resolution. Besides, the Free Preview Render feature provides you accurate cost & time estimates and a preview image for free.
What you get:
6000+ powerful CPU & GPU render servers
Free preview render & a free trial for new users
Available software licenses | Absolutely confidential information
Affordable & easy to use- 24/7 professional technical support
Calculate rendering cost & time for each project before rendering
Automatically detect missing assets and errors
Automatically download render outputs with 3S Cloud Desktop
---