In recent years, Blender, an open-source 3D creation suite, has become popular all over the world. In Vietnam, there is a Blender community, BlenderVN. And, the admin of this group is Mr. Ha Nguyen – 3S Cloud Render Farm's User.
3S Cloud Users – Mr. Ha Nguyen
Mr. Ha is currently a founder, manager, and developer of the Blender community in Vietnam. In addition, he is also a Blender trainer with courses on 3D graphic design for games, animation, advertising, architectural visualization,… using Blender and other open-source software.
How Mr. Ha came to Blender
He has been working professionally with Blender since 2006 (14 years so far). Initially, he came to Blender due to his company's request for software that ensures information security, can upgrade and control the technology. And, Blender was the first choice, since it is open source and completely free. At that time, it was difficult in finance to buy copyrighted software owing to the fact that they were not officially sold in the Vietnamese market.
The reason why Mr. Ha chooses to work with Blender in long-term
Especially, the more you use Blender, the better you will find it. This productive tool is updated regularly; therefore, even if you study Blender continuously, it is still hard to cover all features. Blender is programmed based on the needs of users, for the purpose of users, and always listening to users for development. This is not the same as commercial software whose owners are usually optimal between features and margins.
Moreover, Blender users can deeply intervene in and create tools to link data directly from this software into the company's system, which is different from commercial software. Blender cannot be purchased and will work until its users run out of demand.
His purpose for the group "BlenderVN"
Originally, BlenderVN was created to support students in his class. Later, Mr.Ha realized that there should become a playground for people with similar interests, where they can help each other mentally as well as professionally. Due to its lack of popularity, Blender has not been included in official training programs in Vietnam yet, so materials in Vietnamese are very limited.
Developing the Blender community in Vietnam also enhances the status of Blender users because the more users a software has, the better opportunities for users. And this community will attract the attention of companies with abundant human resources, which will make this software more developed. In the future, BlenderVN aims to be the place for professional Blender users in Vietnam.
Besides, the popular use of Blender also helps to reduce the proportion of Vietnamese people using crack software, which not only helps improve civilization but also ensures information security for the internet community in Vietnam.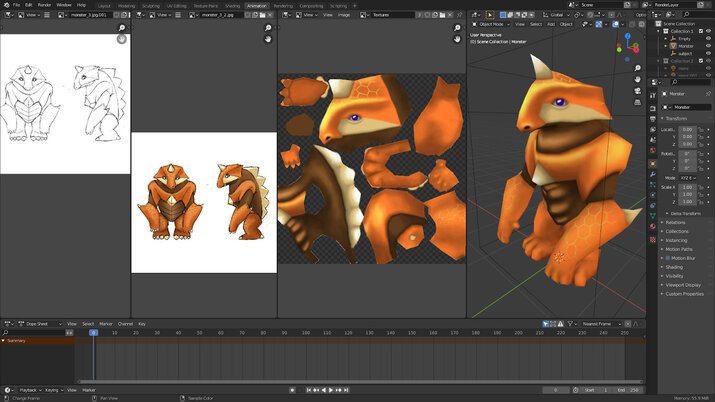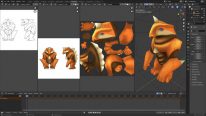 Tips for Learning & Using Blender from Mr. Ha
Can you share some tips for beginners/Blender users?
– "First of all, it must be determined that Blender is similar to other 3D software, they are just a tool to work with. Depending on the purpose of the job, Blender has specific applications. Therefore, users need to equip specialized knowledge in parallel with tool knowledge. For example, if you learn Blender to do animation, you must have knowledge of the principles of motion, acting (expression) as a real actor, then put those things into the movie through Blender's tools.
For those of you who have used other 3D tools, 3D specialized knowledge will help a lot in learning Blender. However, you should just keep your expertise and forget about the old tools for now. Let's learn the Blender tool from scratch to maximize the power of Blender. Because each tool has its own features and ways to deal with problems; thus, absolutely it is better not to impose methods from other software on Blender.
I also write a lot of documents in Vietnamese for Blender, so if you feel confused when starting, you can read documents on the BlenderVN forum. Or, you can join the BlenderVN group which is the place to share most of Blender's knowledge in Vietnamese."
Currently Rendering Demand
How do you rate the rendering needs of Blender users today? What are the main reasons why they need to use render farms?
"High-quality rendering always requires immense computational power. For example, the recent Next Gen movie, which uses Blender entirely in animation and rendering, takes thousands of hours of rendering with very powerful render farms. The personal computer cannot meet the requirements for this task.
In addition, the issue of cost is also very concerned. With render farms, users do not need to spend the initial investment, users only need to pay for what they use. In short, time and money are the benefits that render farms bring.
In terms of users, it will depend on work and customers of people who need high-quality products with fast rendering time. In Vietnam, when people can produce animated movies for theaters or to release them on platforms like Netflix or produce high-quality commercials, VFX…, they will surely have demand for rendering services."
How Mr. Ha Nguyen experienced when rendering on 3S Cloud Render Farm
Mr. Ha Nguyen shared that "After using 3S Cloud Render Farm, I found that this is good rendering service. In particular, 3S Cloud has special support for Blender, so it always updates early Blender's new applications that Render Farms supporting much software are difficult to be good with. Updated versions, add-ons or render engines, which are specific to Blender, are best supported by 3S Cloud Render Farm."
For 3S Cloud Render Farm, from the first days, Mr. Ha Nguyen was like a friend, a teacher, and a member of our team. We have got a lot of advice and suggestions from him during product research and development. He is the person who has been supportive of us in LuxCoreRender integration.
"3S always appreciates your support and thanks to you from the bottom of our heart."
Currently, 3S supports projects using Blender, Houdini, Cinema 4D, Maya, 3ds Max.
Read more about our customers:
---